Zombies, or Zombehs as spelt in Eddsworld, are often featured in Edd's work. This series started out as a short film on Newgrounds called Zombehs, which eventually evolved into a series. Sometimes, even his own friends become Zombehs (notably Matt). The series of toons Zombeh Attack, as well as the flash standalone Zombeh Nation have both been a great success and are among Edd's most popular work. They have been on the front-page of Newgrounds and won some trophies. Edd has not hinted at any other of his films featuring Zombehs. However there are a few in Bang, Boom, Splat! and Hello Hellhole. Zombehs also appear briefly in WTFuture, when Edd's future self travels back to the time of Zombeh Attack. The hands of a few Zombehs can be seen sticking up from their graves in Tord's Adventure, but are gunned down by the title character before they fully emerge.
Appearances
Notable Individuals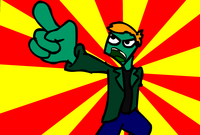 In Zombeh Attack, Matt's arm was bitten off by a zombeh, and then he too turned into one. Unlike the others, he was capable of intelligent speech and kept his mind, therefore becoming their leader.
He was originally green-skinned like all the other zombehs, but in Zombeh Attack III, he was grey-skinned. Aside from the change in skin colour and red pupils in ZA3, the only main difference between this Matt and the regular one is the lack of a left arm, which is replaced by that of a skeleton at the midpoint of ZA3.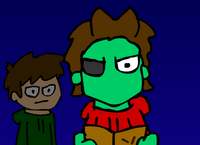 During the first Zombeh Attack, Tord was killed. In the intro of Zombeh Attack II, Edd, Tom, a priest and a random woman are mourning him. After the funeral, Edd places a fork and spoon on Tord's grave, which gets struck by lightning and ends up resurrecting Tord. Like Matt, he too kept his mind.
His appearance is generally the same as it was when he was alive, except for the green skin, missing right eye and, eventually, a missing leg.
Jasper
A zombeh Paul made in resemblance to himself, eventually revived for an upcoming short called "Jasper and Ted".
Private Brains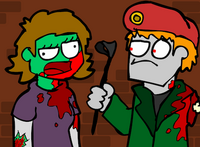 Private Brains is a female zombeh in Zombeh Matt's undead army. When "General" Matt spoke to her, he told her to get a haircut and some highlights, which she did sometime before Matt replaced his left arm later in the episode.
Gallery
Community content is available under
CC-BY-SA
unless otherwise noted.