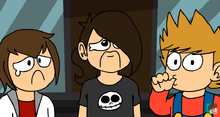 After the credits of part two of The End, the Sinster Guy finishes telling three children the "story of Eddsworld", and asks them what they think of it. The kid with the blonde hair, who is on the right, simply sucks his thumb. The kid in the middle starts crying immediately. The kid with the lighter brown hair, who is on the left, has a tear coming out of her eye. 
The three kids, and the Sinister Guy, are suddenly interrupted by the ghost of Jon. The middle kid stops crying, the kid on the left stops crying, and the three kids look to the left of the screen, while the kid on the right continues to suck his thumb.
Behind the Scenes
The children are based on close friends of Marc Lovallo and Billy Crinion, the animators of this scene. The child on the right intentionally resembles Taliesin Charles, co-producer and voice of Tom from the Eddsworld Fan Movie crew.
Community content is available under
CC-BY-SA
unless otherwise noted.