The Big Named Monster is a post-apocalyptic action comedy monster film directed by Christopher Bingbong, written by "Monkey 56", and starring Adam Luckawort and George Cloonberg. The eponymous monster is played by a bunch of monkeys taped together.
Plot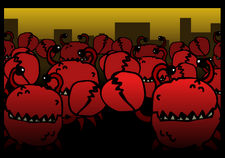 The film follows the story of Tough Hero Guy and his sidekick, Nerd, who is smart, as they combat the Super Powerful Demon Mutant Zombie Pirate Magic Ninja Evil Overlord from Hell and Outer Space, otherwise known as the Big Named Monster. They also battle many other creatures during the course of the film, such as an army of giant crabs, and the film is full of innuendos.
The film ends when Tough Hero Guy is convinced that they have finally defeated the creature, only to be informed by Nerd that they haven't defeated the monster, and it is actually right behind him. The Big Named Monster then descends upon the two main characters and eats them - then the credits roll.
Reception
The movie was a commercial failure. Despite Edd, Tom, Tord and Matt praising the movie and claiming that millions would come to watch it, they were the film's only viewers. According to Christopher Bingbong's assistant Larry, the movie was too derivative, comparing them to other monster films like Godzilla, King Kong and Jurassic Park.
In response, Christopher decides to create an army of Clones to artificially make the film a commercial success.
Trivia
One of the characters in the movie has a shirt that says "Moving Target", a possible reference to the then-unreleased eddisode Moving Targets.
The director's name shows up as "Christopher Bingbong AKA Bing".
Community content is available under
CC-BY-SA
unless otherwise noted.