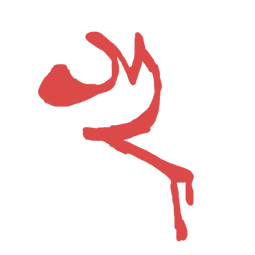 The Red Leader was a mysterious character within Eddsworld. The character was never actually seen or heard from, but minor references were made in WTFuture and Eddsworld: Legacy.
Verbal reference
In WTFuture, the Red Leader is mentioned by Matt and Tom's future selves when they return to the present to stop Edd's future self.
Logo appearances
In The Snogre, the supposed logo of Red Leader appears on the tail of a plane right next to the word "N0R5K1".
In Fun Dead, the logo appears once again written in blood on an Arcade machine next to Patryck's wounded body.
In part two of The End, the logo appears for a second on the underside of Tord's second couch capsule. The logo also appears in the cockpit of his robot and beside the lever to the hideout within Edd's house.
Behind the Scenes
Thomas Ridgewell stated that he and Edd had planned for the Red Leader to appear in Super Average. Though his identity wouldn't be directly mentioned, it "wouldn't have taken a rocket scientist to figure out".[1][2] Their end goal was to fuse Super Average with Eddsworld and having the big, bad villain be a fellow named Red Leader. With Edd's passing, development on Super Average was put on pause while Thomas worked on Eddsworld Legacy.[3]
With consideration of criticisms and hindsight from Eddsworld: Legacy, he has decided to scrap the character of Red Leader. He has stated his reasons as not only distancing himself from Eddsworld, but also relieving the character of Tord from his control.
References
↑ "In 2008 I came up with the idea for a series called Super Average, a show I still plan on making one day. The dream was to write it with Edd and have him lead the animation. For obvious reasons, we never got the chance to work on it together. We had however planned on fusing it with Eddsworld, setting it in the same universe, and having the big, bad villain be a fellow named Red Leader. Hell, he's even name-dropped in WTFuture (2010). While we were never going to reveal the identify of this villain, it wouldn't have taken a rocket scientist to figure it out."
Community content is available under
CC-BY-SA
unless otherwise noted.