Eddsworld: Legacy refers to the fundraiser started by Thomas Ridgewell and the group of animations that came from it. The money made from the fundraiser was used to fund the creation of 5 new Eddisodes and 7 new shorts. People who donated to the fundraiser recieved rewards such as posters, wristbands, and original portraits. 100% of the ad revenue made from the YouTube channel during this period went directly to CLIC Sargent, the UK's leading cancer charity for children.
Videos related to Eddsworld: Legacy, such as special thanks videos and several Eddisodes that were either never uploaded to the official YouTube channel or removed from it due to copyright infringement were uploaded on a second channel called Eddsworld Extra. Select episodes were reuploaded to Eddsworld Extra with brand new music from Marc Lovallo and Yoav Landau.
History
"My friend just died and half a million people are waiting for me to be hilarious."
— Thomas Ridgewell
"He wanted his world to keep on going, with him in it."
— Sue Gould
Edd's "dying request", as Ridgewell put it, was that he wanted Eddsworld to keep going. Ridgewell joked that he wasn't given passwords, and that he had to creatively get into most of Gould's accounts.
Ridgewell took on the roles of lead writer, director, and producer for the show. Paul became the full-time animator, and weebl was brought on to create backgrounds, as Paul has stated he is "not very good" at them. Ridgewell planned for more "solid management", something he had always wanted to do regarding Eddsworld; ideally, he would have liked to produce one episode every month, with a length of roughly five minutes.
Ridgewell had discussed with Gould what they would do if Gould died, and planned to record lots of random lines of dialogue, but they didn't manage it. Edd would receive a new voice actor rather than being written out of the show - Ridgewell understood the backlash he would receive, but that there was "nothing else [he] could really do about that", and that the fans would have to accept it. The auditions were held between close friends, and Edd's new voice was touched upon in the animation as a joke - "a gag, basically".
All profits that weren't going towards the show would be going towards the Teenage Cancer Trust. Ridgewell stated that if they did not have the funds to start up Eddsworld, he would possibly use either Kickstarter or Indie-Fund to get it up and running.
Ridgewell aimed to get the entire Eddsworld series available on DVD. He planned to export the copyrighted music out of Gould's older movies and hire some musicians to redo some original music, however this project was deemed too costly for what he had originally planned for and the idea was scrapped.
Due to severe depression, Ridgewell put Eddsworld: Legacy on hiatus for several months. The hiatus ended on November 21, 2013, and Eddie Bowley was brought on as a co-director, co-writer, and co-producer.
During his severe depression, Ridgewell updated the Eddsworld tumblr:[1]
"
I know I shouldn't be typing this out but.. I don't know what else to do.
I am desperately unhappy. I'm failing to run Eddsworld and the guilt is killing me. Grief has broken my spirit.
To you, the viewers, I'm sorry for the delays. I promised you so much and have consistently disappointed you. You gave me your trust, your patience and your money and I'm yet to come through with anything. You deserve a lot better and you WILL get it.
To my coworkers (Paul especially), I'm sorry I've been such a poor director/producer. You've been grounded by my lack of input for months now and people need to understand who is responsible.
Finally, to Edd, I'm sorry I've let you down, man. I can't do this without you. I'm just not strong enough.
Thank you all for waiting; I'm sorry you have to. Things will get better.
Until then,
- Tom
"
After part two of The End was uploaded, the majority of the Eddsworld: Legacy crew including Thomas Ridgewell, Eddie Bowley, and TIm Hautekiet departed the show.[2][3] Control of the show was handed back to Edd Gould's family, along with Tom's animated counterpart.[4]
Donation Rewards
Anyone who donated $15/£10 would get a soundtrack of original Eddsworld music and a Behind the Scenes of making Eddsworld footage.
Anyone who donated $25/£16 would get the prizes above plus a small donator Eddsworld poster signed by Tom, Matt and Paul.
Anyone who donated $50/£32 would get the prizes above plus an official Eddsworld wristband.
Anyone who donated $100/£65 would get the prizes above plus the new Eddsworld comic book; the sequel to 'Toaster Brains', featuring the latest comics, sketches, and concept art.
Anyone who donated $200/£130 would get the prizes above plus a portrait of themselves in Eddsworld style, signed by Paul ter Voorde.
Anyone who donated $300/£195 would get the prizes above plus an animated appearance in one episode. The donator's name would be found in the credits.
Anyone who donated $500/£324 would get the prizes above plus a personal "thank you" video from Matt and Tom. They would upload it to a new YouTube channel or send the video to the donator.
Anyone who donated $1000/£648 would get twice of every prize above plus an Executive Producer credit on one episode.
Anyone who donated $2000/£1,582.99 would get the prizes above and their money would go towards the production of an official Eddsworld DVD. The money would go towards remastering old eddisodes (including creating an entirely new, copyright-free soundtrack), recording commentaries, filling the DVD with unreleased sketches, the behind the scenes mini-doc and a "thank you" message. The donator's name will be right there on the box and all profits will go to charity.
Animations
| # | Title | Youtube upload date | Newgrounds upload date | Deviantart upload date |
| --- | --- | --- | --- | --- |
| 1 | Space Face (Part 1) | June 2, 2012 | June 7, 2012 | January 2, 2013 (Full) |
| 2 | Date Night | September 12, 2012 | September 13, 2012 | September 13, 2012 |
| 3 | Space Face (Part 2) | November 26, 2012 | N/A | January 2, 2013 (Full) |
| 4 | The Snogre | February 7, 2013 | February 7, 2013 | N/A |
| 5 | Tom's Tales of Crazy | June 14, 2013 | N/A | N/A |
| 6 | Hide and Seek | December 24, 2013 | N/A | N/A |
| 7 | Fun Dead | February 28, 2014 | N/A | N/A |
| 8 | PowerEdd | December 31, 2014 | N/A | N/A |
| 9 | Mirror Mirror | August 28, 2015 | N/A | N/A |
| 10 | Saloonatics | February 12, 2016 | N/A | N/A |
| 11 | The End (Part 1) | March 9, 2016 | March 16, 2016 (Full) | N/A |
| 12 | The End (Part 2) | March 16, 2016 | March 16, 2016 (Full) | N/A |
Operation: Reboot Animations
These are the animations that were released as a part of Operation: Reboot.
| # | Title | Original Upload date | YouTube Upload date |
| --- | --- | --- | --- |
| 1 | Eddsworld Christmas Special | December 15, 2004 | March 2, 2016 |
| 2 | Edd Again | April 28, 2004 | March 4, 2016 |
| 3 | Eddsworld Halloween Short | October 24, 2005 | March 4, 2016 |
| 4 | Snobody | December 18, 2005 | March 4, 2016 |
| 5 | Eddsworld Halloween Special 2007 | October 21, 2007 | March 4, 2016 |
| 6 | Behind the Scenes of Eddsworld | October 8, 2005 | March 10, 2016 |
| 7 | Zombeh Attack | October 4, 2005 | March 16, 2016 |
| 8 | Eddsworld Christmas Special '05 | December 2, 2005 | March 16, 2016 |
Results
Eddsworld: Legacy was highly successful, raising $83,211 with the original goal being $50,000. This allowed Eddsworld to continue on for quite some time. The fundraiser can be seen at the end of both Space Face Part 2 and Mirror Mirror.
Criticism
Director Thomas Ridgewell came under fire from some of the Legacy donators for the amount of time it took for them to get their perks, although Eddie Bowley has since corrected this issue[5]. Tom had to hand-write apology letters to over 200 donators who received their Eddsworld comic books over a year late. On November 21, 2013, Tom confirmed via the Eddsworld Tumblr that there were still donators who had yet to receive their perks, well over a year and a half later. Tom also stated in the same blog that if he could go back in time, he would have never done the fundraiser and instead run the show off of its own profits. On July 1, 2015, Tom announced that the Eddsworld DVD had been cancelled and that the donations would be put towards the show instead.
Tom has expressed his dislike of people calling Eddsworld: Legacy "Tomsworld".[6]
Trivia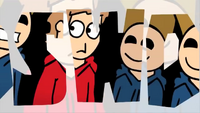 The following characters from past episodes make cameo appearances in eddisodes from this fundraiser: Tord, Joe, Laurel, Hellucard, Paul, & Diwi.
Both of the Eddsworld: Legacy fundraiser videos are currently unlisted.
Gallery
References
Links
Community content is available under
CC-BY-SA
unless otherwise noted.