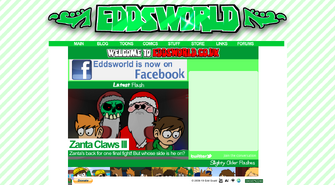 Eddsworld.co.uk (formerly Eddsworld.tk) is the website storing Edd Gould's many creations. It has gone through many changes over the years.
Incarnations
The earliest archive of Eddsworld.tk was taken on March 12, 2003.[1] The earliest archive of Eddsworld.co.uk was saved on April 22, 2003.[2]
v3 went online on June 7, 2003, and v4 went online sometime later.[3][4][5]
Another incarnation, archived June 2, 2004, contains two flash animations - one involving Edd's brain being torn out with a playable song, and another with Bendee's head banging up and down with a photo above it reading "Bendee Bends!".[6][7] The archive taken on August 13, 2004 just has a navigation page on the .tk version.[8][9][10]
Eddsworld Version Seven was launched sometime around September 27, 2004.[11][12][13]
Another version of Eddsworld.tk was archived on December 5, 2004. [14]
Another version of Eddsworld.co.uk was archived on February 5, 2005. [15][16]
An intro for the site was created on June 19, 2006.[17]
From March 29, 2012, the website redirected to the video announcing Edd Gould's death,[18] and in June 8, 2012, going to the link redirected users to the "Eddsworld: Legacy" fundraiser video.[19] According to Tom Ridgewell in a Q&A interview, the site was shut down a month or two before Edd's death due to a virus problem.
On December 22, 2016, the official Eddsworld account tweeted the URL to the website. On January 1, 2017, the website was opened to the public and a new comic released the same day.[20] Sue Gould is listed as the registrant and LCN.com is listed as the registrar.
Gallery
References
Community content is available under
CC-BY-SA
unless otherwise noted.