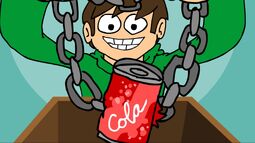 Coca-Cola (often shortened to Coke or Cola) is a real-life soda brand.
Involvement in Eddsworld
Edd is obsessed with Coca-Cola.
Appearances in Animations
Appearances in Eddsworld: Legacy Animations
Fun Dead: An advertisement for Coca-Cola with Bacon shows up while Edd is flipping through channels.
PowerEdd: Cola serves a minor plot point as Eduardo destroys the factory in Edd's local area, causing him and Edd to fight.
Saloonatics: Edward Gold is having trouble purging the town of Spitbucket, U.S.A. However, when he is given a drink of cola, he fixes it almost immediately due to its inspiring taste. Edward also uses cola in this way to save Prince Matthew from the bandits.
Community content is available under
CC-BY-SA
unless otherwise noted.